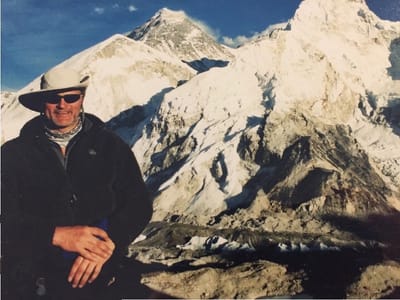 About the Author

It was a close call between wanting to be a sport's journalist and pursuing a career as an actor. However, there was only going to be one winner after I spent my first glorious summer with the National Youth Theatre of Great Britain in 1974. I was seventeen. I completely fitted in for the first time in my life and I've never looked back, even though at times it is a ridiculously unpredictable profession. I went on to a drama school called The Royal Academy of Dramatic Art, from which I graduated in 1980 and have been working ever since, on TV in 'Game of Thrones', 'Casualty', 'Holby City', 'Vicar of Dibley' and my favourite, 'Robin of Sherwood'. A lot of my work is on stage in plays like 'Of Mice and Men' and 'A Streetcar named Desire', and on film in 'Alien 3' and 'White Hunter Black Heart'.
I'm also a voice over artist doing dozens of commercials, scores of talking books like the 'Grk' series and even voicing 'Gator' in 'Thomas the Tank Engine'.
The idea for writing 'The Treasure at the Top of the World' came to me in Nepal during a month long charity trek [Hope and Homes for Children] to Everest Base Camp and beyond. Nepal is such an amazing country and the wonders of the Himalayas and the people who live there are with me every day. I have been back since and completed the Annapurna Circuit, crossing the highest pass in the world and if my legs and lungs will allow, I hope to return one day soon with my son to journey again in that majestic mountain kingdom.
When I'm not acting or writing I spend my time walking with my wife and our beautiful spaniel in the glorious Wiltshire countryside thinking of more adventures for Freddie and his friends. Books 2 and 3 in the series are well under way.